Home>
venir
How to conjugate Venir in Spanish
To come Irregular Verb Top 100
Introduction
Venir is the Spanish verb meaning "to come".
Similar verbs to venir include: llegar (to arrive).
| Item | Spanish | English |
| --- | --- | --- |
| Infinitive | venir | to come |
| Past participle | venido | come |
| Gerund | viniendo | coming |
Indicative Tenses of Venir
Subjunctive Tenses of Venir
Imperative Tenses of Venir
Example sentences and usage
No sabía de dónde venía eso.

I didn't know where it came from.

¡Date prisa, que viene el autobús!

Hurry up! Here comes the bus.

¿Y si dieras un discurso y nadie viniera?

What if you gave a speech and nobody came?

¿Por qué no venís con nosotros?

Why aren't you coming with us?

Quiero saber quién viene con nosotros.

I want to know who is coming with us.

¿Tú no viniste a la escuela ayer, o sí?

You didn't come to school yesterday, did you?

Ahora vendrás con nosotros.

You're coming with us now.

¿Cuándo viniste a Japón?

When did you come to Japan?
Back to top
Downloadable cheat sheets
Download and print a cheat sheet of Venir Spanish conjugation tables in image or PDF format: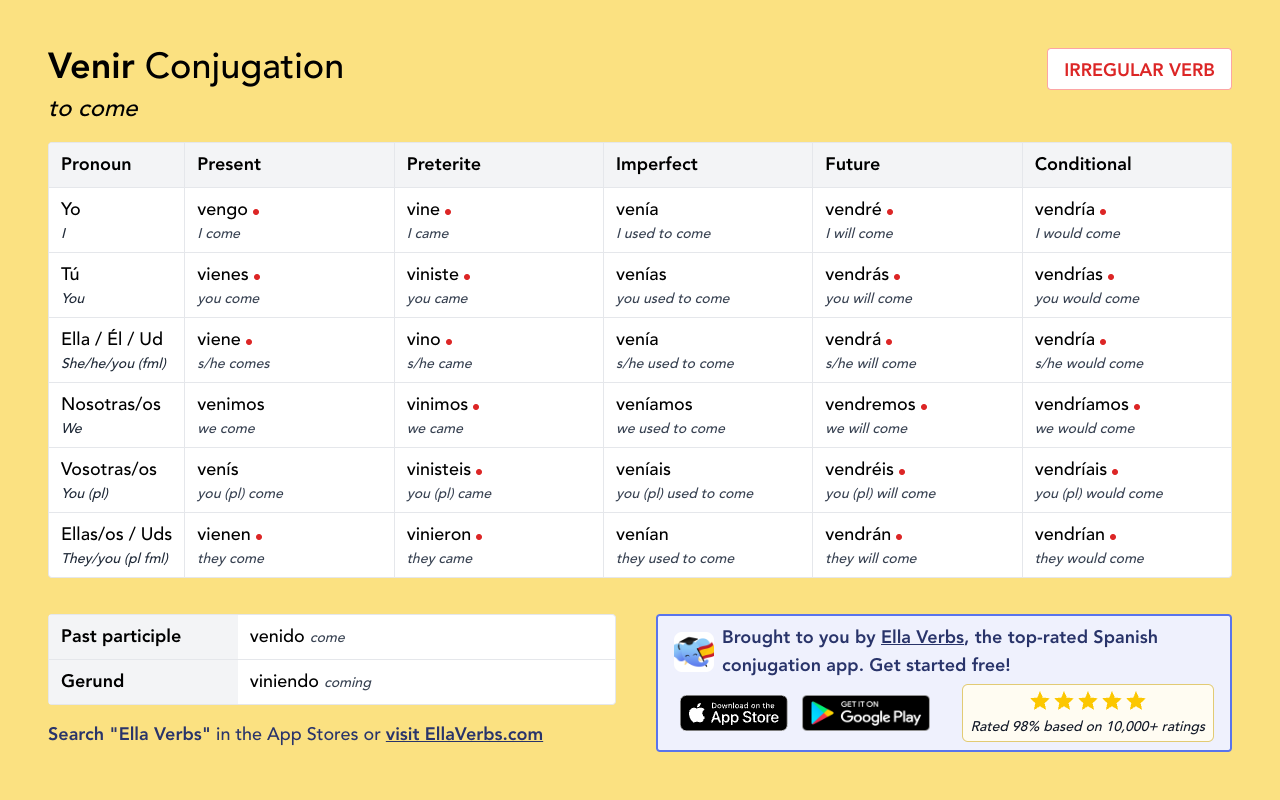 Back to top
Practice Venir conjugations (free mobile & web app)
Get full conjugation tables for Venir and 1,900+ other verbs on-the-go with Ella Verbs for iOS, Android, and web.
We also guide you through learning all Spanish tenses and test your knowledge with conjugation quizzes. Download it for free!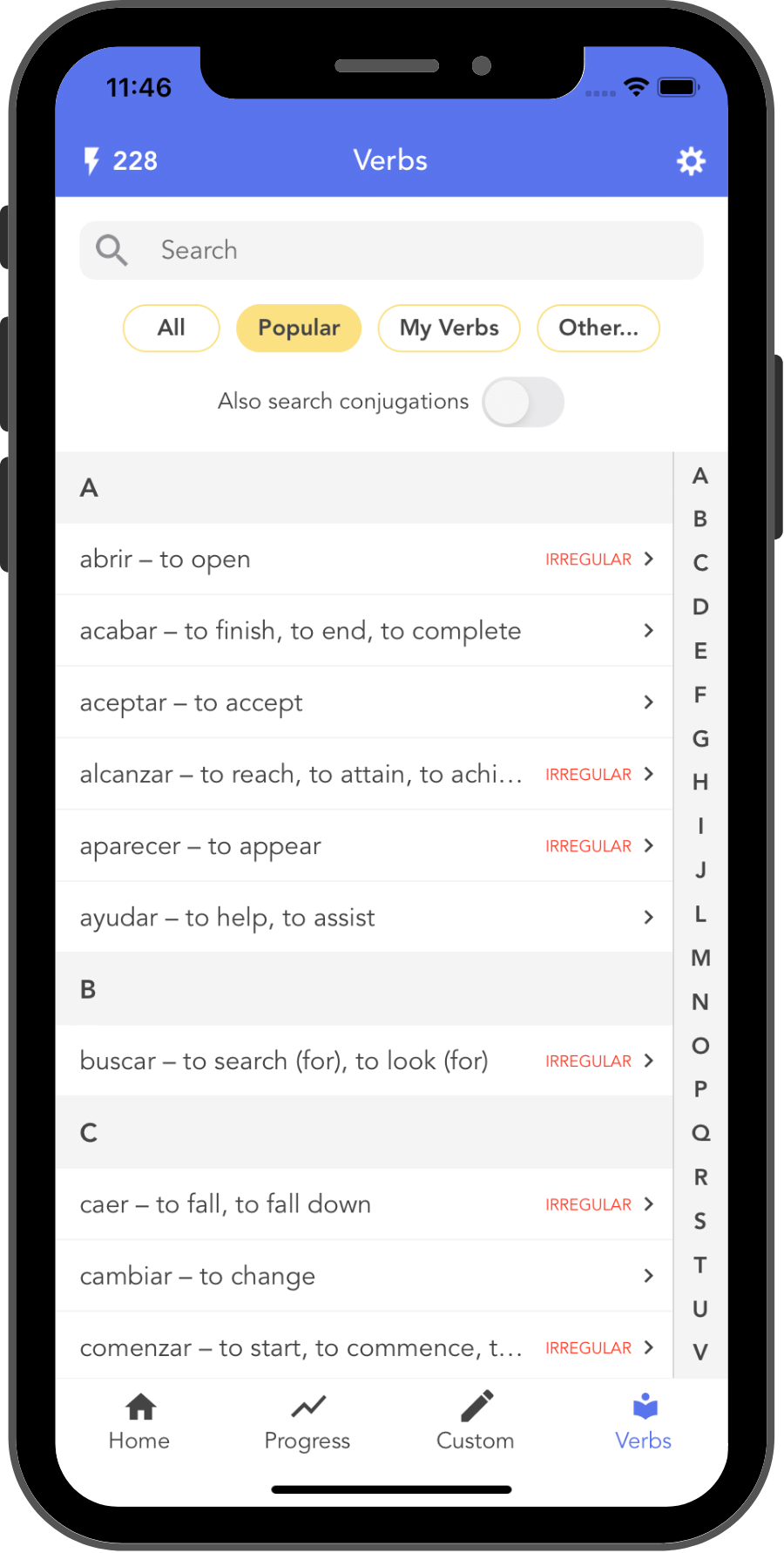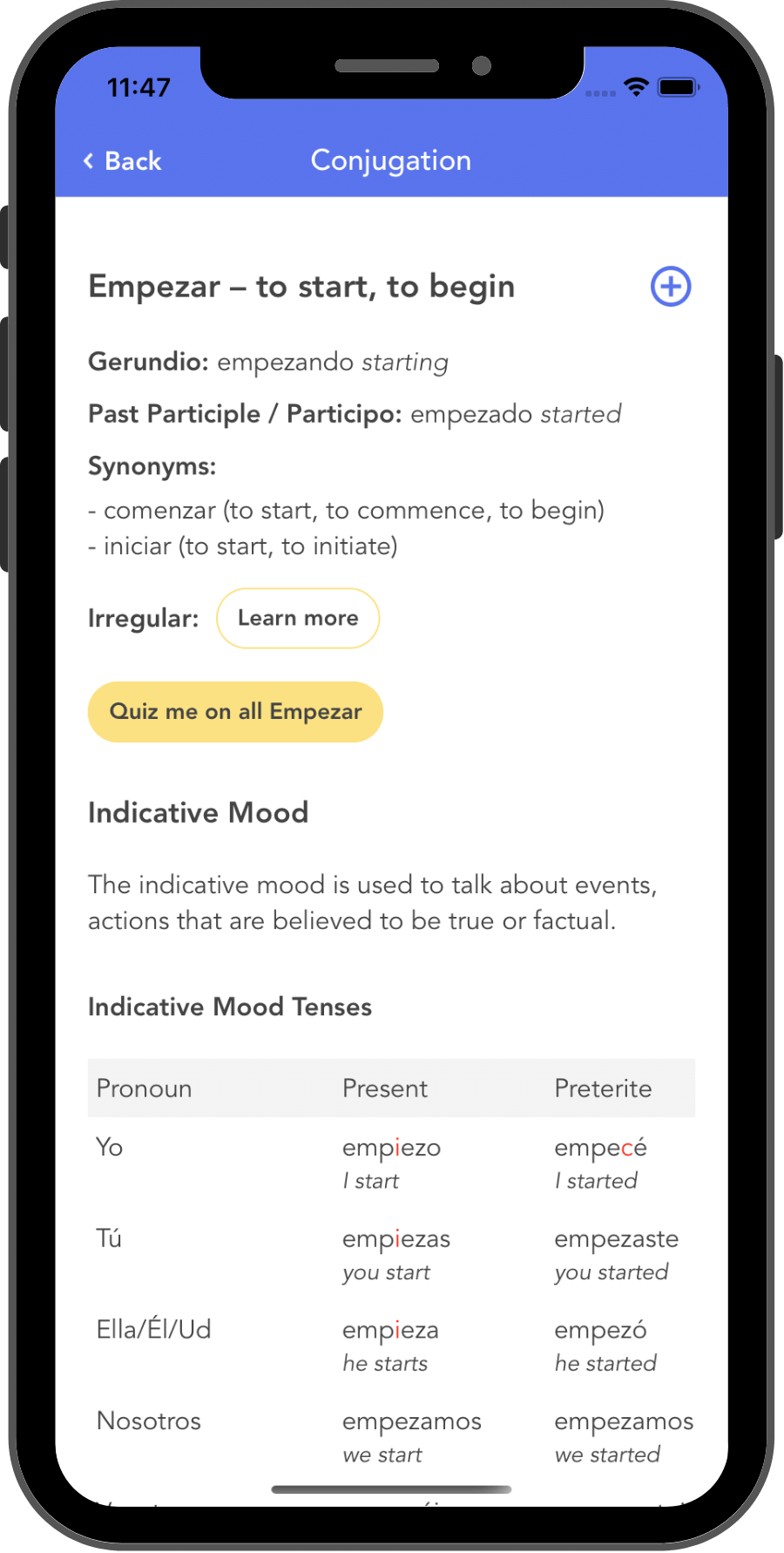 Rated 98% based on

5,789+ ratings
Back to top
About Ella Verbs
👋 Hola! We built Ella Verbs to help people (and ourselves!) master one of the hardest parts of Spanish – verb conjugation. It guides you through learning all tenses in an easy-to-follow way, giving you levels of bite-sized lessons and fun quizzes. Here is a 6 minute overview of all of the app's features:
It has changed a lot over the 6+ years we have been working on it, but the goal remains the same – to help you master Spanish conjugation! You can download and try it for free, and, if you do, please send any and all feedback our way!
- Jane & Brian
Rated 98% based on

5,789+ ratings
Back to top
Want a better way to learn conjugations?
Download free
Rated 98% based on

5,789+ ratings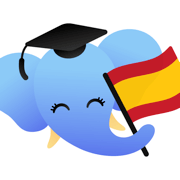 Remove the mystery behind Spanish conjugation with Ella Verbs
Learn how to conjugate

(not just memorize)

Discover & focus on your weaknesses

Interactive quizzes

that you actually learn from
Free to try, and free forever for those who cannot afford it.