Home>
ser
How to conjugate Ser in Spanish
To be (permanent) Irregular Verb
Introduction
Ser is the Spanish verb "to be". It is generally used to portray permanent situations, for example: I am from Spain, he is a profesor, she is tall, this watch is my mother's etc. You'll find that this particular verb is one of the most versatile out there, but also hugely irregular, following almost no rules. Ser is not to be confused with Estar, also meaning "to be", but used for different situations.
| | Spanish | English |
| --- | --- | --- |
| Infinitive | ser | to be (permanent) |
| Past participle | sido | been |
| Gerund | siendo | being |
Indicative Tenses of Ser
Subjunctive Tenses of Ser
Imperative Tenses of Ser
Example sentences and usage
Es un juego de palabras.

This is a pun.

No soy un pez de verdad, sólo soy un peluche.

I'm not a real fish, I'm just a mere plushy.

No eres lo bastante rápido.

You're not fast enough.

Ya son las once.

It is already eleven.

Ese fue el mejor día de mi vida.

That was the best day of my life.

La vida empieza cuando te das cuenta de quién eres realmente.

Life begins when we realize who we really are.

¿Aún te sigues preguntando cuál es el sentido de la vida?

You are still asking yourself what the meaning of life is?

La situación es peor de lo que creíamos.

The situation is worse than we believed.
Back to top
Downloadable cheat sheets
Download and print a cheat sheet of ser Spanish conjugation tables in image or PDF format: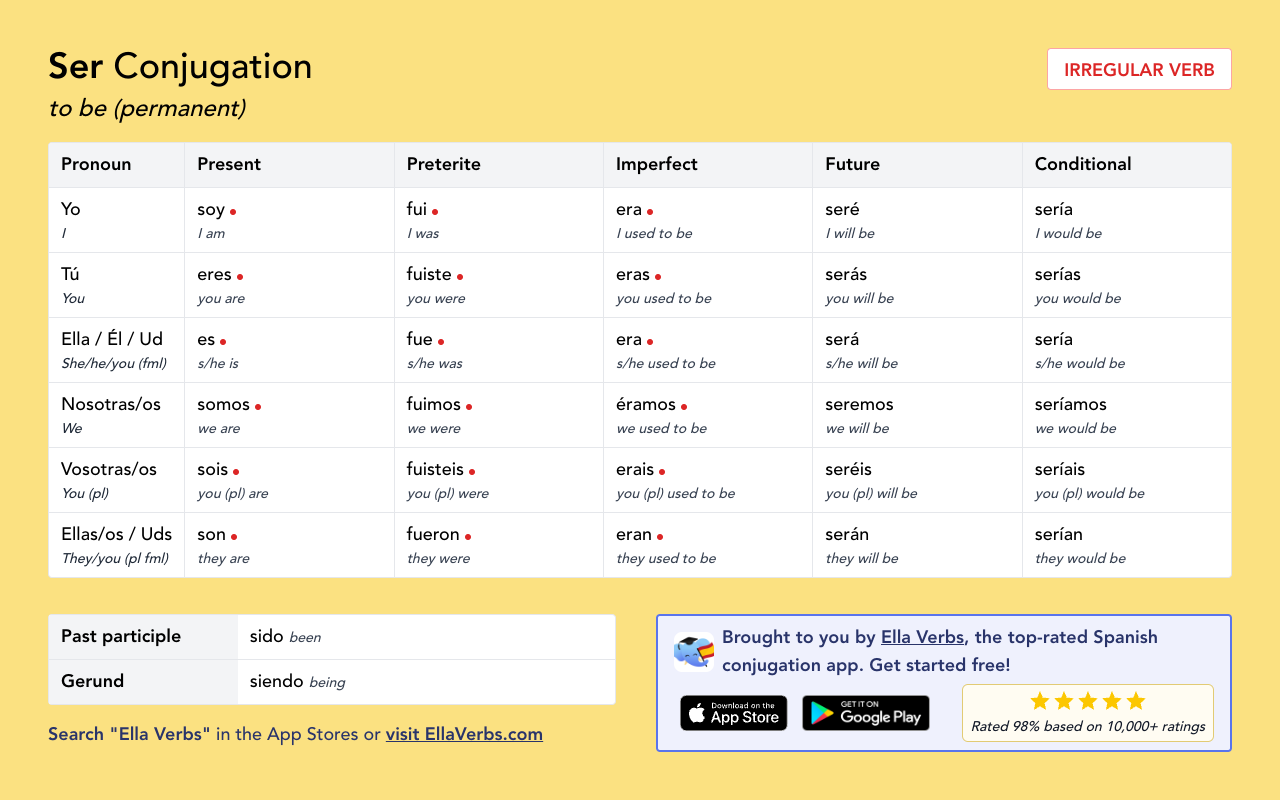 Back to top
Practice Ser conjugations (free mobile app)
Get full conjugation tables for Ser and 1,550+ other verbs on-the-go with Ella Verbs for iOS and Android.
We also guide you through learning all Spanish tenses and test your knowledge with conjugation quizzes. Download it for free!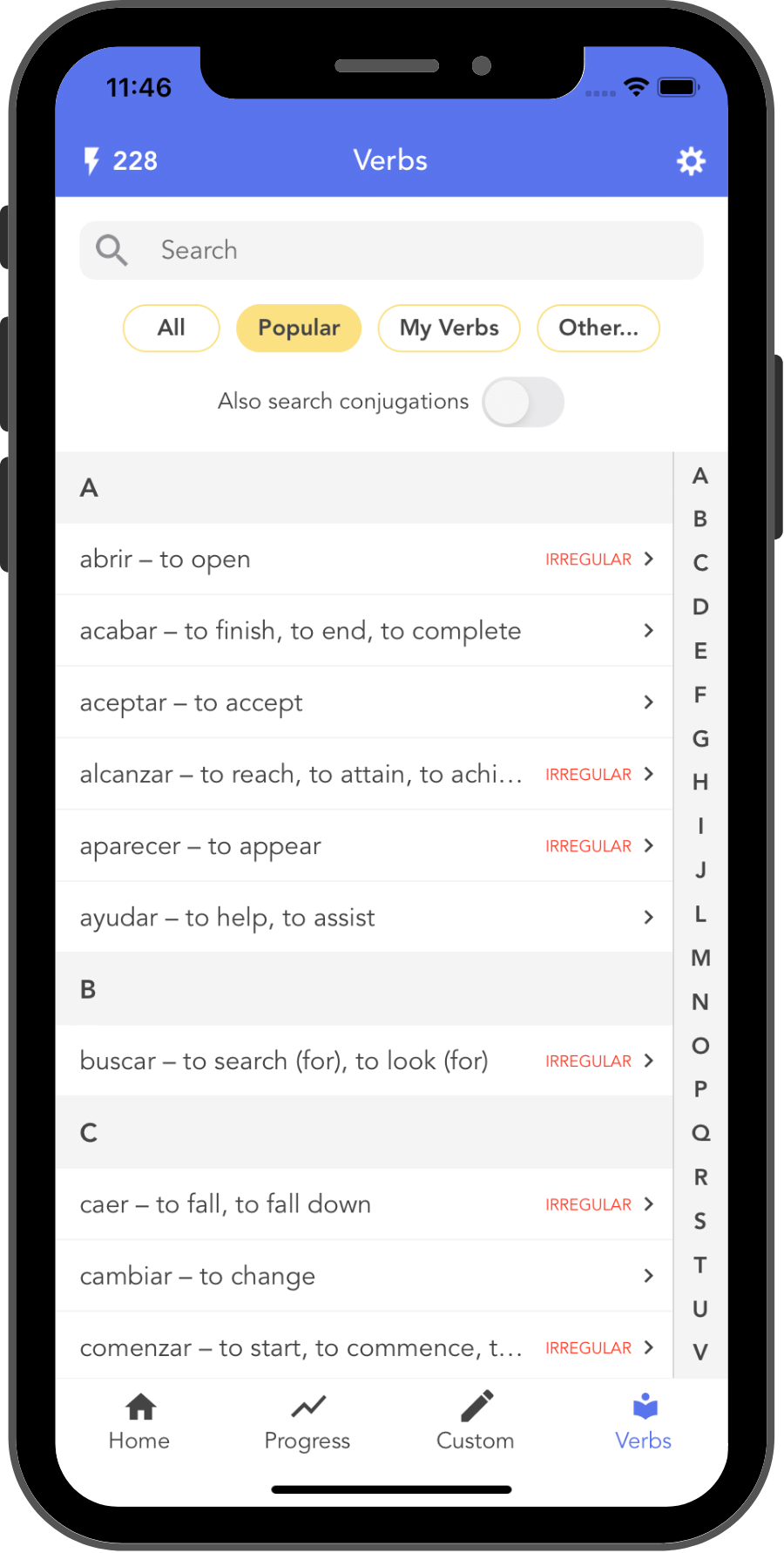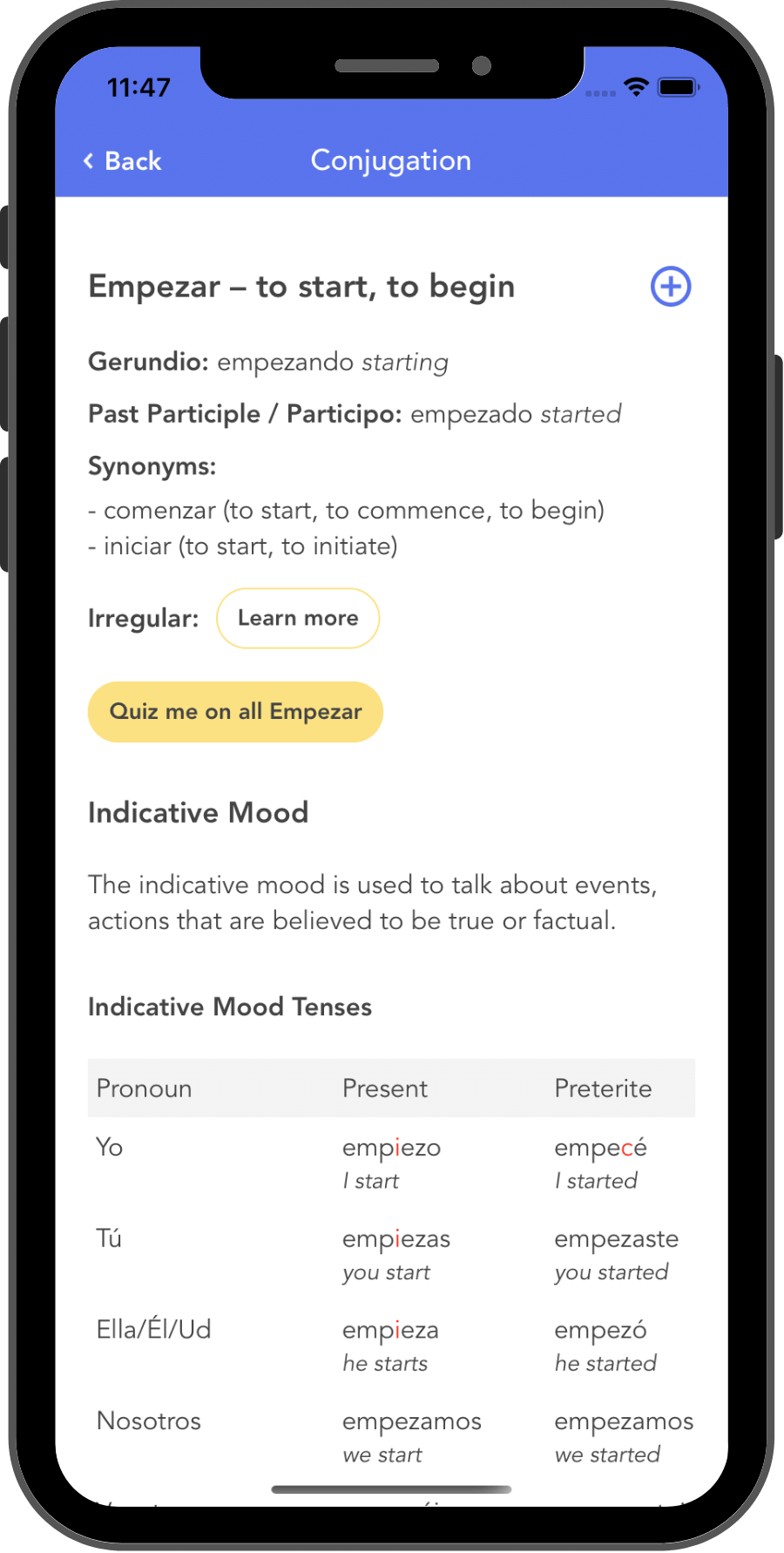 4.9 out of 5 stars based on

2,690+ ratings
Back to top
About Ella Verbs
👋 Hola! We built Ella Verbs to help people (and ourselves!) master one of the hardest parts of Spanish – verb conjugation. It guides you through learning all tenses in an easy-to-follow way, giving you levels of bite-sized lessons and fun quizzes. Here is a 6 minute overview of all of the app's features:
It has changed a lot over the 4+ years we have been working on it, but the goal remains the same – to help you master Spanish conjugation! You can download and try it for free, and, if you do, please send any and all feedback our way!
- Jane & Brian
4.9 out of 5 stars based on

2,690+ ratings
Back to top