Home>
recoger
How to conjugate Recoger in Spanish
To collect, to pick up Irregular Verb
Introduction
Recoger is the Spanish verb for "to collect, to pick up". It is an irregular verb. Read on below to see how it is conjugated in the 18 major Spanish tenses!
Similar verbs to recoger include: coleccionar, levantar.
| Item | Spanish | English |
| --- | --- | --- |
| Infinitive | recoger | to collect, to pick up |
| Past participle | recogido | collected |
| Gerund | recogiendo | collecting |
Indicative Tenses of Recoger
Subjunctive Tenses of Recoger
Imperative Tenses of Recoger
Downloadable cheat sheets
Download and print a cheat sheet of Recoger Spanish conjugation tables in image or PDF format: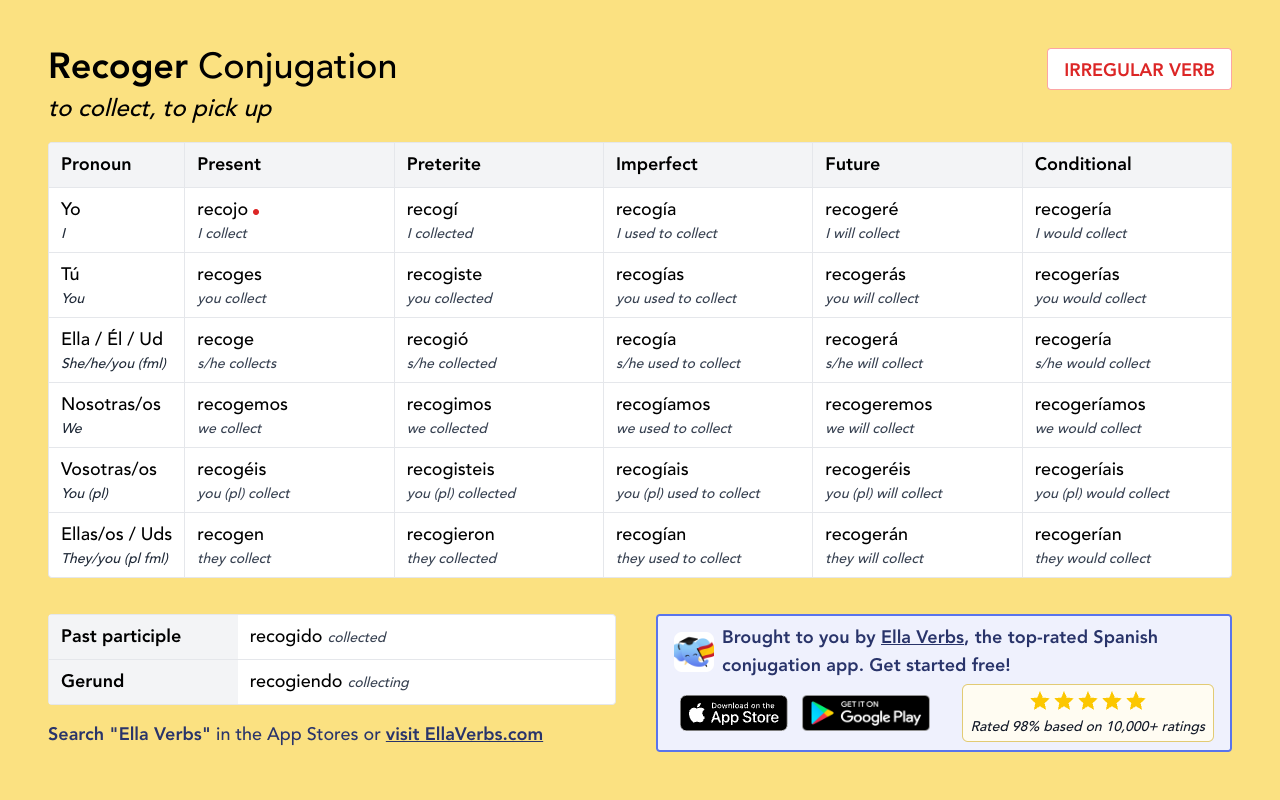 Back to top
Practice Recoger conjugations (free mobile & web app)
Get full conjugation tables for Recoger and 1,900+ other verbs on-the-go with Ella Verbs for iOS, Android, and web.
We also guide you through learning all Spanish tenses and test your knowledge with conjugation quizzes. Download it for free!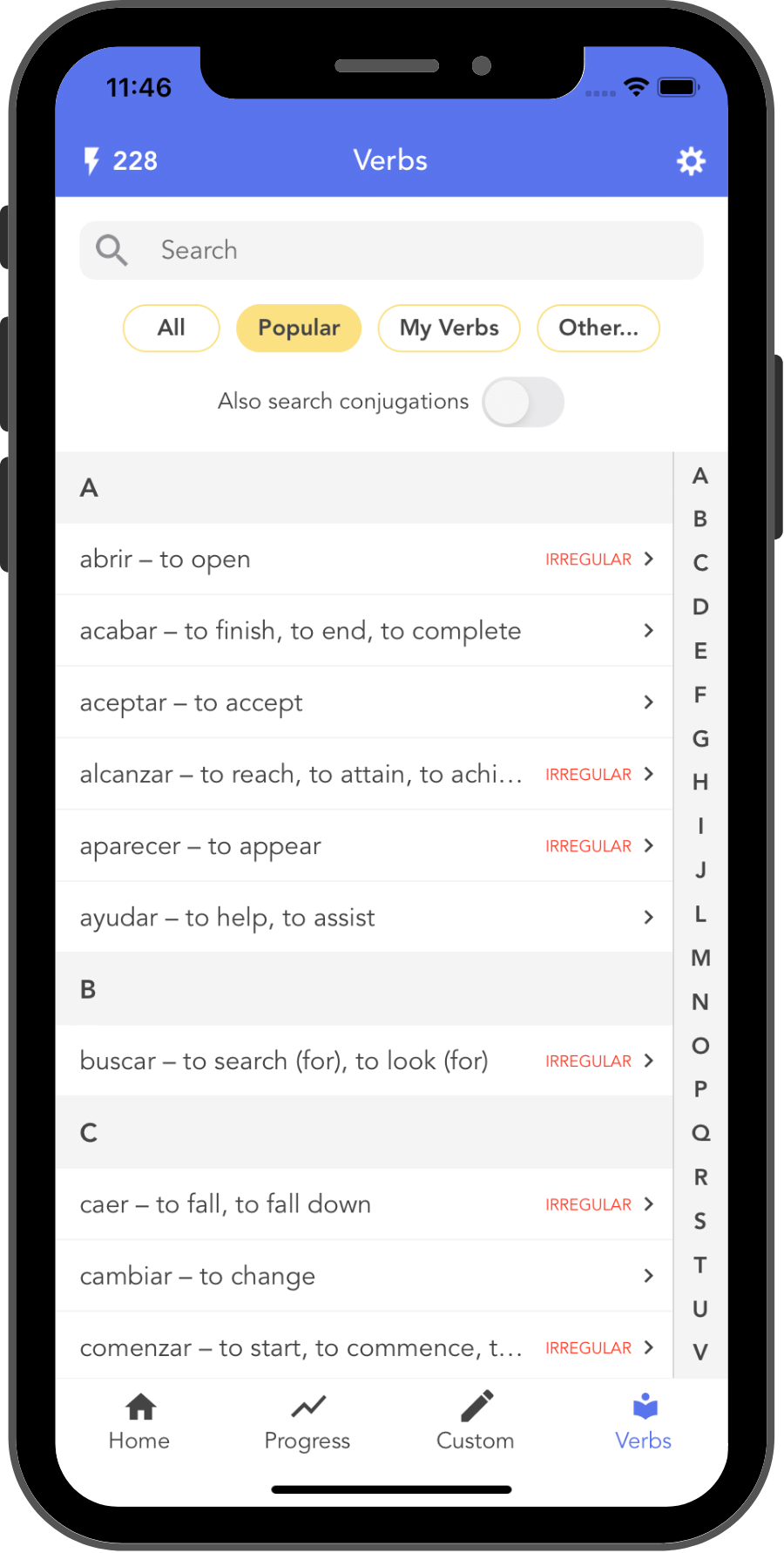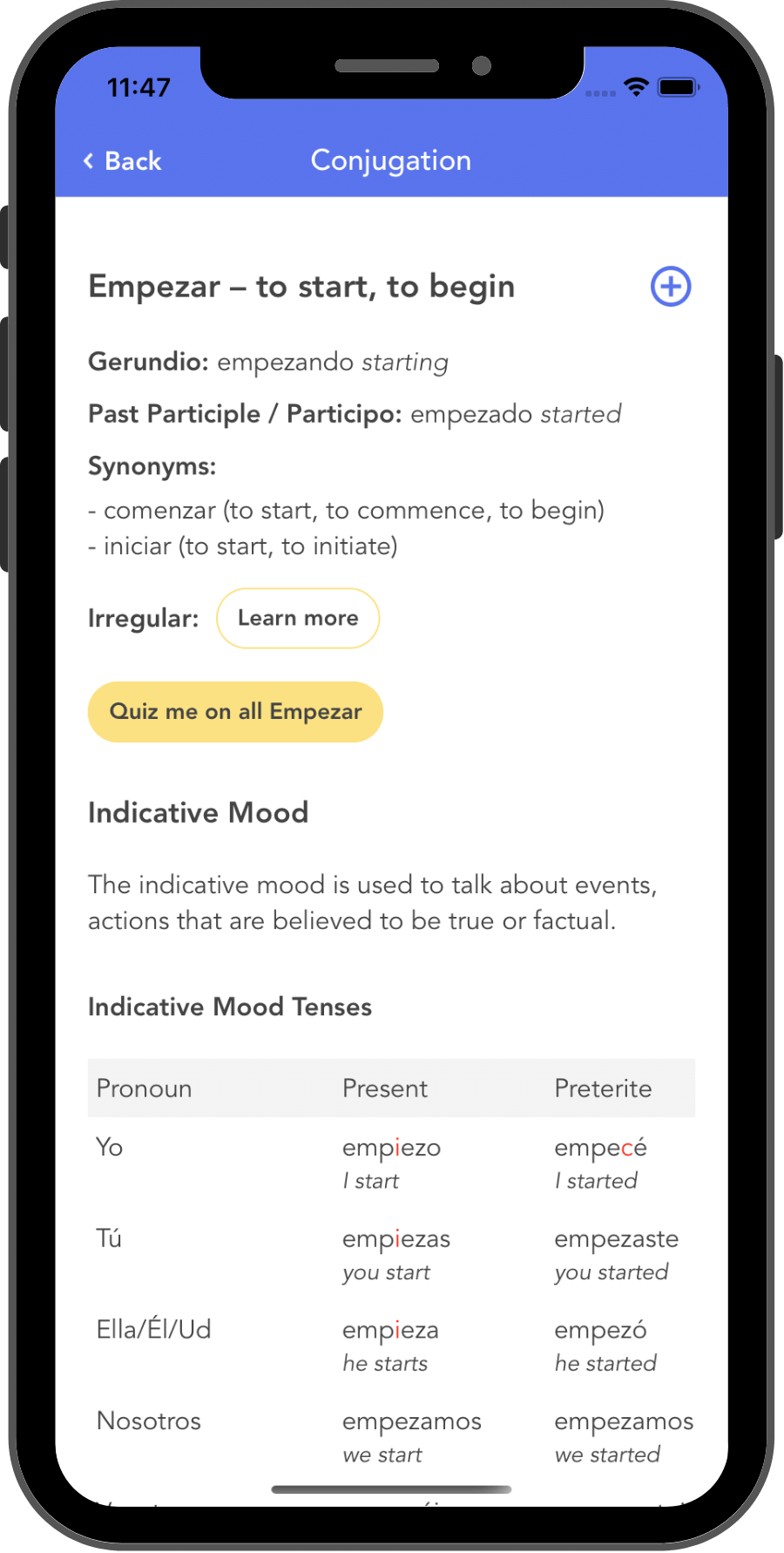 Rated 98% based on

5,842+ ratings
Back to top
About Ella Verbs
👋 Hola! We built Ella Verbs to help people (and ourselves!) master one of the hardest parts of Spanish – verb conjugation. It guides you through learning all tenses in an easy-to-follow way, giving you levels of bite-sized lessons and fun quizzes. Here is a 6 minute overview of all of the app's features:
It has changed a lot over the 6+ years we have been working on it, but the goal remains the same – to help you master Spanish conjugation! You can download and try it for free, and, if you do, please send any and all feedback our way!
- Jane & Brian
Rated 98% based on

5,842+ ratings
Back to top
Recoger: to collect, to pick up
Want a better way to learn conjugations?
Download free
Rated 98% based on

5,842+ ratings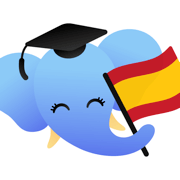 Remove the mystery behind Spanish conjugation with Ella Verbs
Learn how to conjugate

(not just memorize)

Discover & focus on your weaknesses

Interactive quizzes

that you actually learn from
Free to try, and free forever for those who cannot afford it.