Home>
parecer
How to conjugate Parecer in Spanish
To seem, to appear, to look like Irregular Verb Top 100
Introduction
Parecer is the Spanish verb meaning "to seem/ to appear/ to look like". For example: "Pareces cansado. ¿Estás bien? (You look tired. Are you ok?). Parecer can also be used to describe a physical similarity to something or someone, for example: "Mi gato parece un león", or used to give an opinion about something "Me parece que..." (I think that...)
Similar verbs to parecer include: aparecer.
| Item | Spanish | English |
| --- | --- | --- |
| Infinitive | parecer | to seem, to appear, to look like |
| Past participle | parecido | seemed |
| Gerund | pareciendo | seeming |
Indicative Tenses of Parecer
Subjunctive Tenses of Parecer
Imperative Tenses of Parecer
Example sentences and usage
—Esto parece muy interesante —dice Hiroshi.

"This looks pretty interesting," Hiroshi says.

Pareces tener prejuicios contra las ideas que provienen de otros países.

You seem to be prejudiced against ideas that come from foreign countries.

Tu reloj se parece al mío en la forma y el color.

Your watch is similar to mine in shape and color.

Me parece que estás en lo correcto.

It appears to me that you are right.

Lo que a ti te parece simple, a mí me parece complicado.

What seems simple to you seems complex to me.

Los zapatos que estás usando parecen algo costosos.

The shoes you are wearing look rather expensive.

Por el aspecto del cielo, parece que va a llover.

Judging from the look of the sky, it is likely to rain.

Parece que no queda dinero.

It seems like there's no money left.
Back to top
Downloadable cheat sheets
Download and print a cheat sheet of Parecer Spanish conjugation tables in image or PDF format: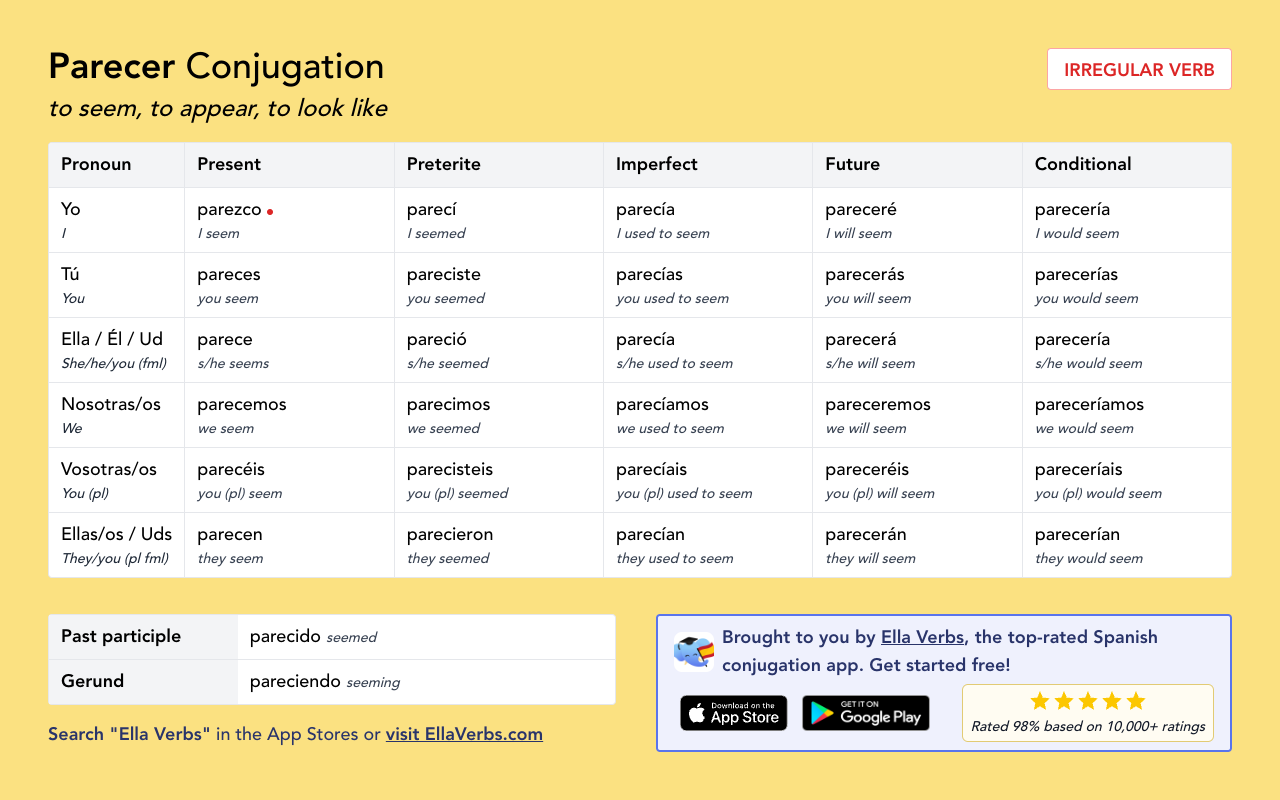 Back to top
Practice Parecer conjugations (free mobile & web app)
Get full conjugation tables for Parecer and 1,900+ other verbs on-the-go with Ella Verbs for iOS, Android, and web.
We also guide you through learning all Spanish tenses and test your knowledge with conjugation quizzes. Download it for free!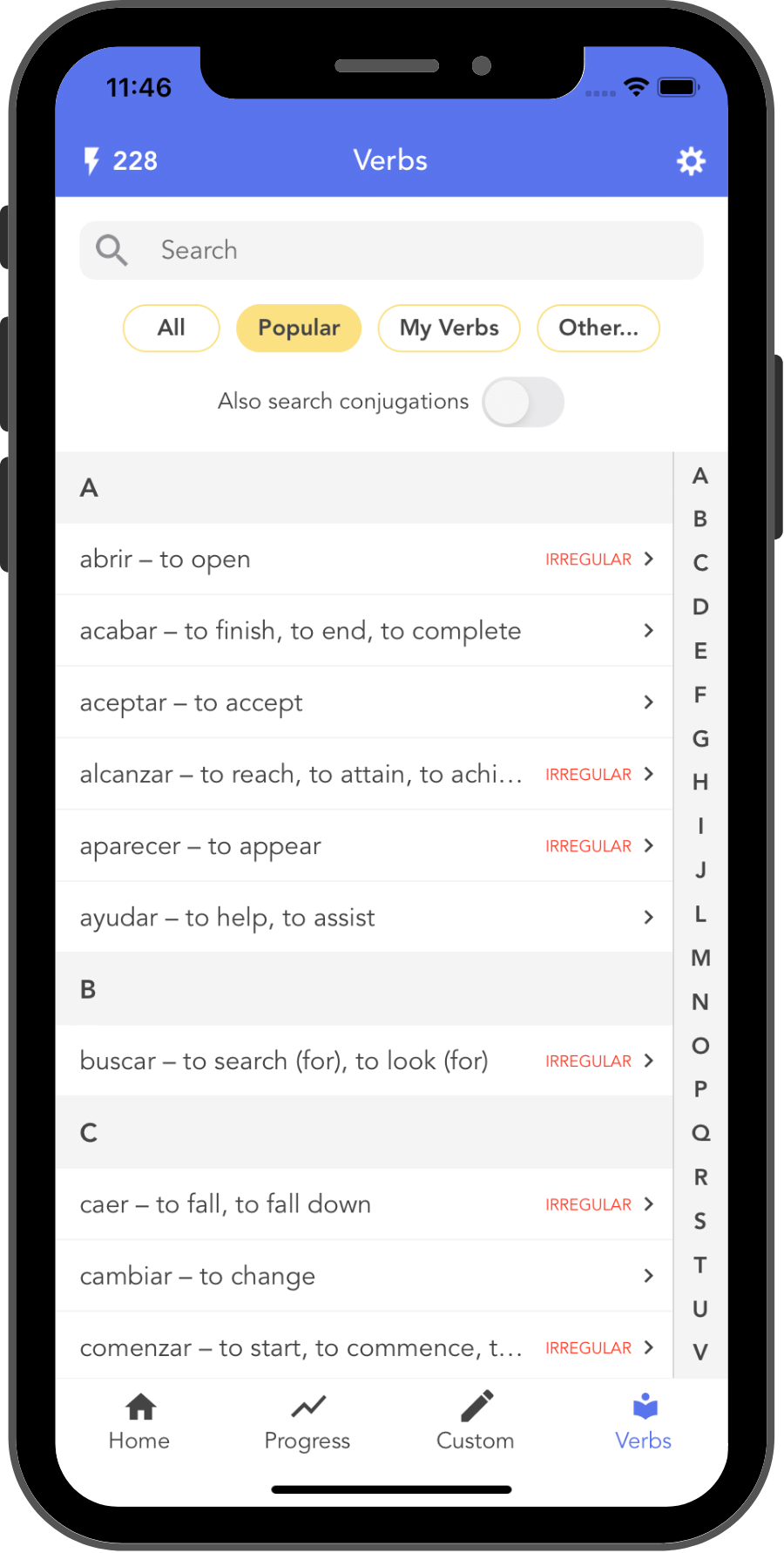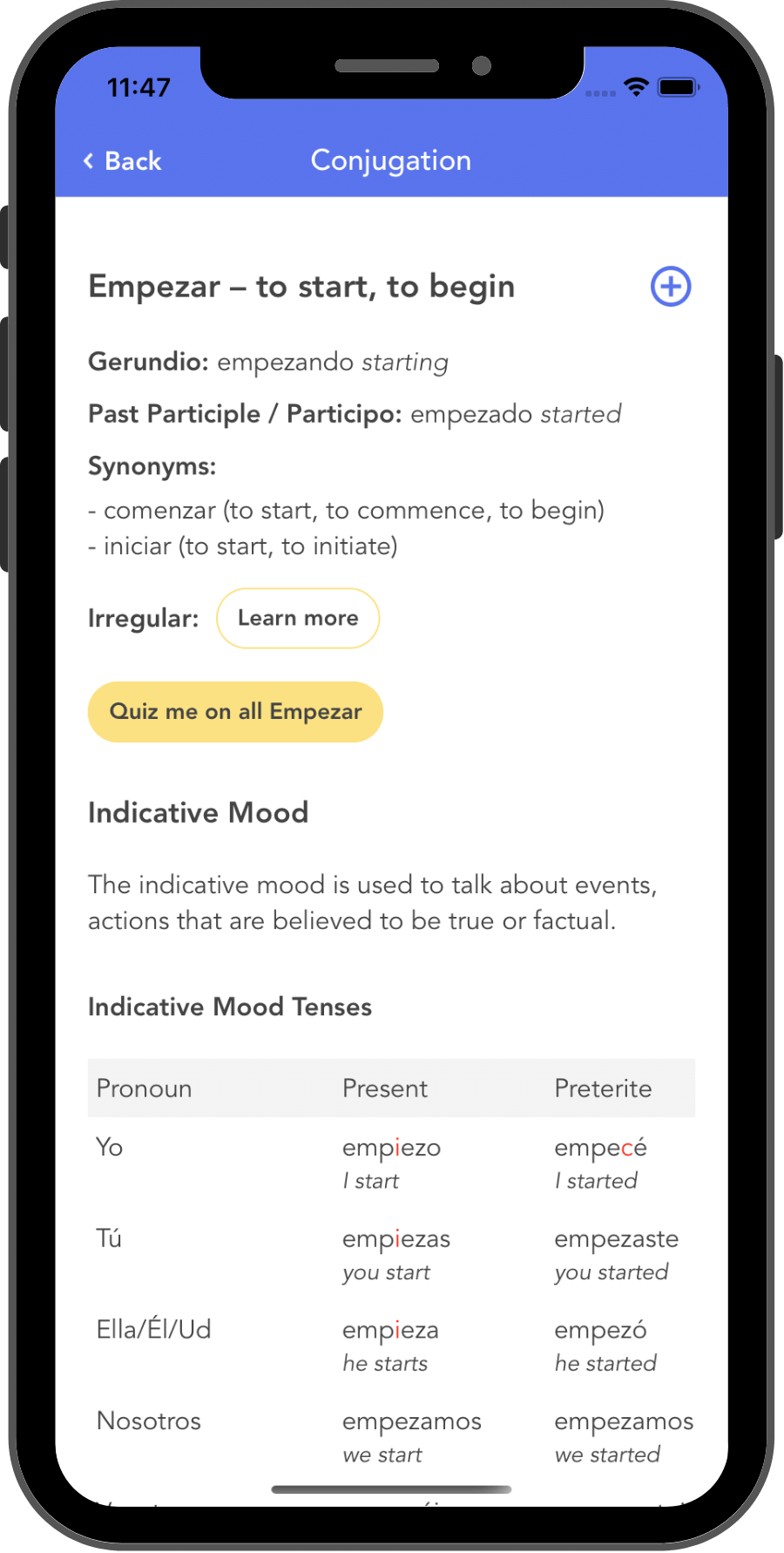 Rated 98% based on

5,842+ ratings
Back to top
About Ella Verbs
👋 Hola! We built Ella Verbs to help people (and ourselves!) master one of the hardest parts of Spanish – verb conjugation. It guides you through learning all tenses in an easy-to-follow way, giving you levels of bite-sized lessons and fun quizzes. Here is a 6 minute overview of all of the app's features:
It has changed a lot over the 6+ years we have been working on it, but the goal remains the same – to help you master Spanish conjugation! You can download and try it for free, and, if you do, please send any and all feedback our way!
- Jane & Brian
Rated 98% based on

5,842+ ratings
Back to top
Parecer: to seem, to appear, to look like
Want a better way to learn conjugations?
Download free
Rated 98% based on

5,842+ ratings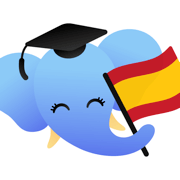 Remove the mystery behind Spanish conjugation with Ella Verbs
Learn how to conjugate

(not just memorize)

Discover & focus on your weaknesses

Interactive quizzes

that you actually learn from
Free to try, and free forever for those who cannot afford it.