Home>
llevar
How to conjugate Llevar in Spanish
To carry, to take, to bring, to wear Regular AR Verb
Introduction
Llevar is the Spanish verb meaning "to carry, to take, to bring and to wear". It is a very versatile verb, with many meaings and use cases. In it's simplist form, this verb can be used to talk about carrying objects and to wear clothes. Another common use of llevar is to describe the amount of time that you are doing something. For example: "Llevo 2 años viviendo en España" (I have been living in Spain for 2 years).
Similar verbs to llevar include: coger, sacar, tomar, portar, traer, vestir, vestirse.
| | Spanish | English |
| --- | --- | --- |
| Infinitive | llevar | to carry, to take, to bring, to wear |
| Past participle | llevado | carried |
| Gerund | llevando | carrying |
Indicative Tenses of Llevar
Subjunctive Tenses of Llevar
Imperative Tenses of Llevar
Example sentences and usage
¿Cuánto tiempo llevas en Japón?

How long have you been in Japan?

Me llevaría demasiado tiempo explicarte por qué no va a funcionar.

It would take me too much time to explain to you why it's not going to work.

Llevaba un sombrero negro.

She was wearing a black hat.

Sería mejor que te llevaras un paraguas.

You had better take an umbrella with you.

Llevas los calcetines al revés.

You are wearing your socks inside out.

¿Cuánto tiempo llevas en Japón?

How long have you been in Japan?

Creo que llevas razón.

I think you're right.

Todos mis problemas no llevaron a nada.

All my troubles came to nothing.
Back to top
Downloadable cheat sheets
Download and print a cheat sheet of llevar Spanish conjugation tables in image or PDF format: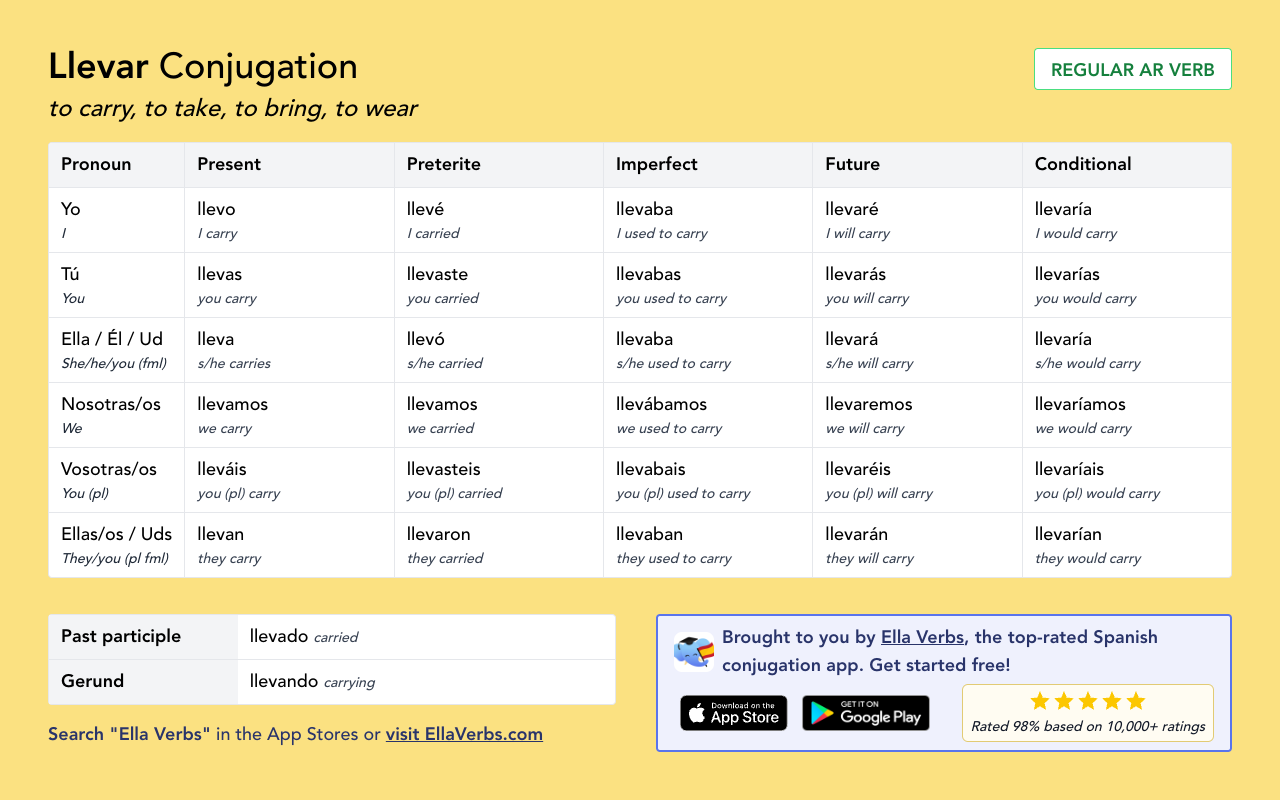 Back to top
Practice Llevar conjugations (free mobile app)
Get full conjugation tables for Llevar and 1,550+ other verbs on-the-go with Ella Verbs for iOS and Android.
We also guide you through learning all Spanish tenses and test your knowledge with conjugation quizzes. Download it for free!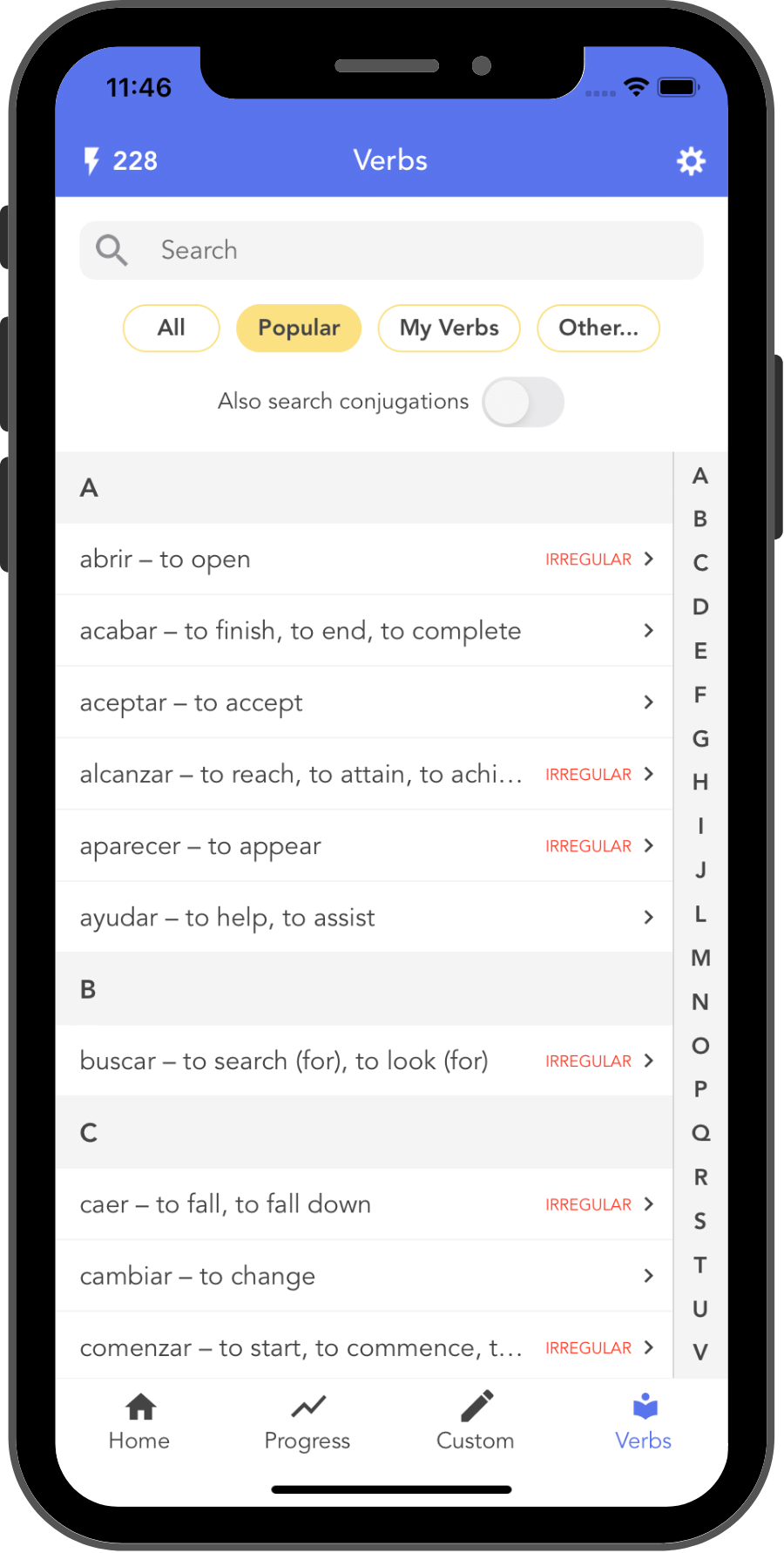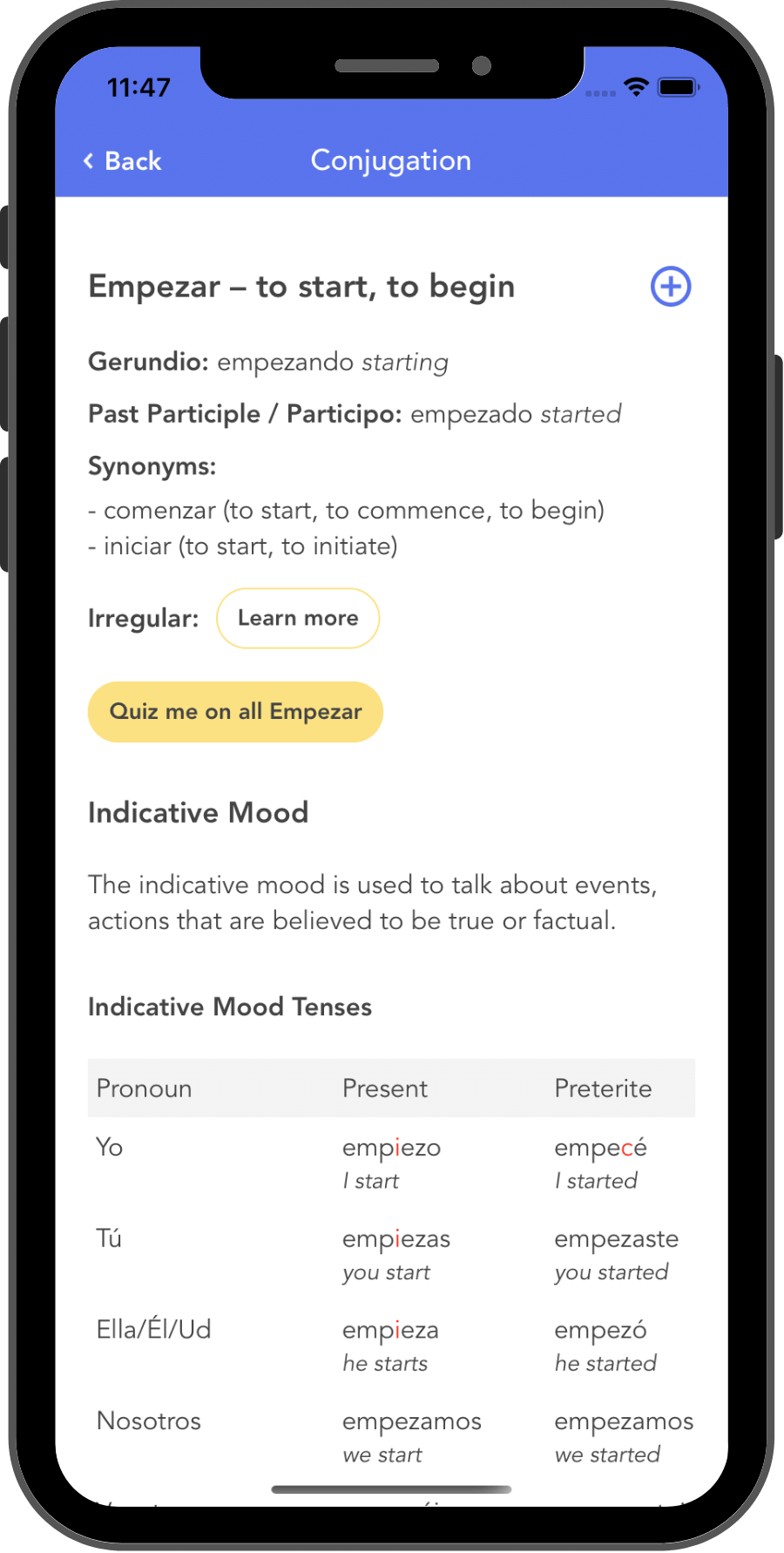 4.9 out of 5 stars based on

2,690+ ratings
Back to top
About Ella Verbs
👋 Hola! We built Ella Verbs to help people (and ourselves!) master one of the hardest parts of Spanish – verb conjugation. It guides you through learning all tenses in an easy-to-follow way, giving you levels of bite-sized lessons and fun quizzes. Here is a 6 minute overview of all of the app's features:
It has changed a lot over the 4+ years we have been working on it, but the goal remains the same – to help you master Spanish conjugation! You can download and try it for free, and, if you do, please send any and all feedback our way!
- Jane & Brian
4.9 out of 5 stars based on

2,690+ ratings
Back to top