Home>
llegar
How to conjugate Llegar in Spanish
To arrive, to come, to reach Irregular Verb
Introduction
Llegar is the Spanish verb meaning "to arrive, to come, to reach". Examples: Voy a llegar un poco atrasado (I'm going to arrive a little late), and ¿Llegas la botella de agua en el suelo? (Can you reach the bottle of water on the ground?). Llegar is only irregular in a few tenses, the rest of the time it follows the AR conjugation rules.
Similar verbs to llegar include: venir (to come), alcanzar (to reach), arribar (to arrive).
| | Spanish | English |
| --- | --- | --- |
| Infinitive | llegar | to arrive, to come, to reach |
| Past participle | llegado | arrived |
| Gerund | llegando | arriving |
Indicative Tenses of Llegar
Subjunctive Tenses of Llegar
Imperative Tenses of Llegar
Example sentences and usage
¿Cómo llegaste a conocerla?

How did you come to know her?

Date prisa o llegarás tarde.

Hurry up, or you will be late.

¿A qué hora llega este tren a Yokohama?

What time does this train reach Yokohama?

Llegué tarde a la escuela.

I was late to school.

Estaba lloviendo cuando nos fuimos, pero para cuando llegamos estaba soleado.

It was raining when we left, but by the time we arrived, it was sunny.

¡Aquí llega la novia!

Here comes the bride!

Llegaste tarde a trabajar.

You were late for work.

¿A qué hora llegarás a la estación?

What time will you get to the station?
Back to top
Downloadable cheat sheets
Download and print a cheat sheet of llegar Spanish conjugation tables in image or PDF format: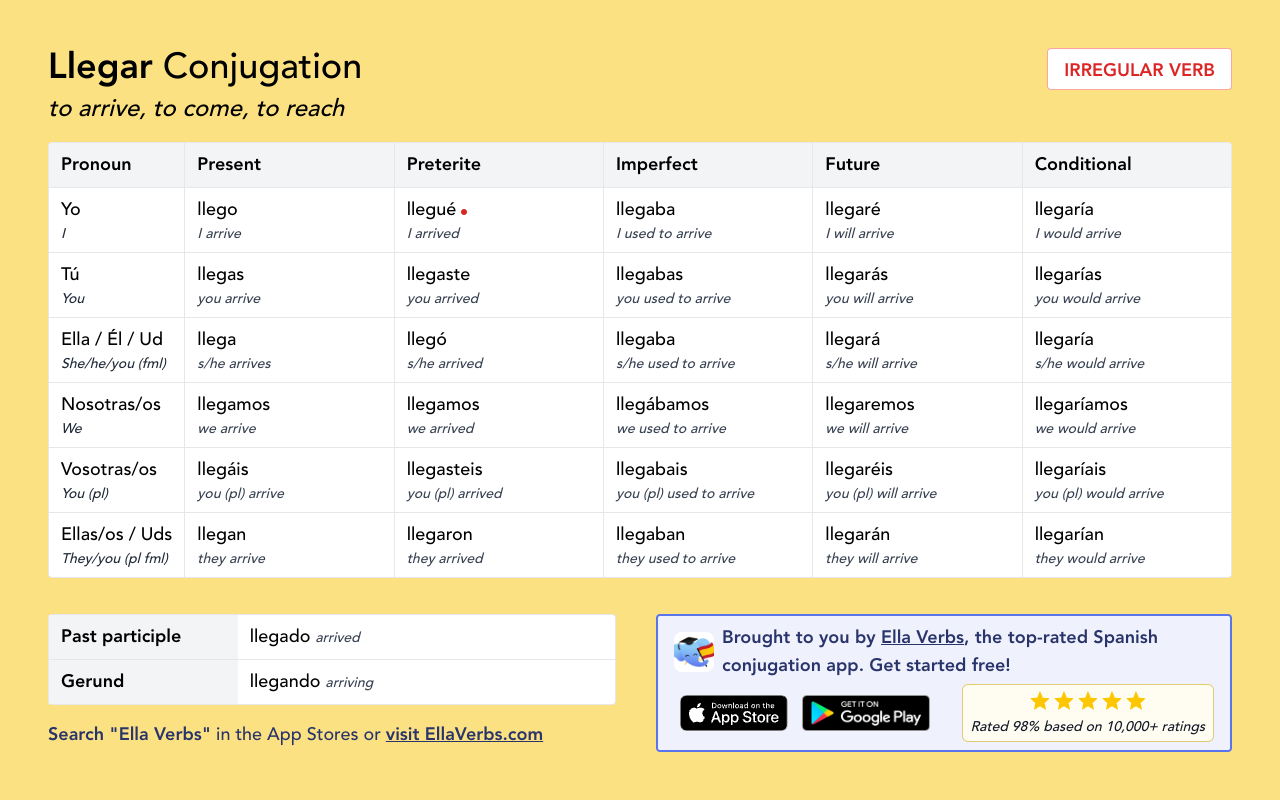 Back to top
Practice Llegar conjugations (free mobile app)
Get full conjugation tables for Llegar and 1,550+ other verbs on-the-go with Ella Verbs for iOS and Android.
We also guide you through learning all Spanish tenses and test your knowledge with conjugation quizzes. Download it for free!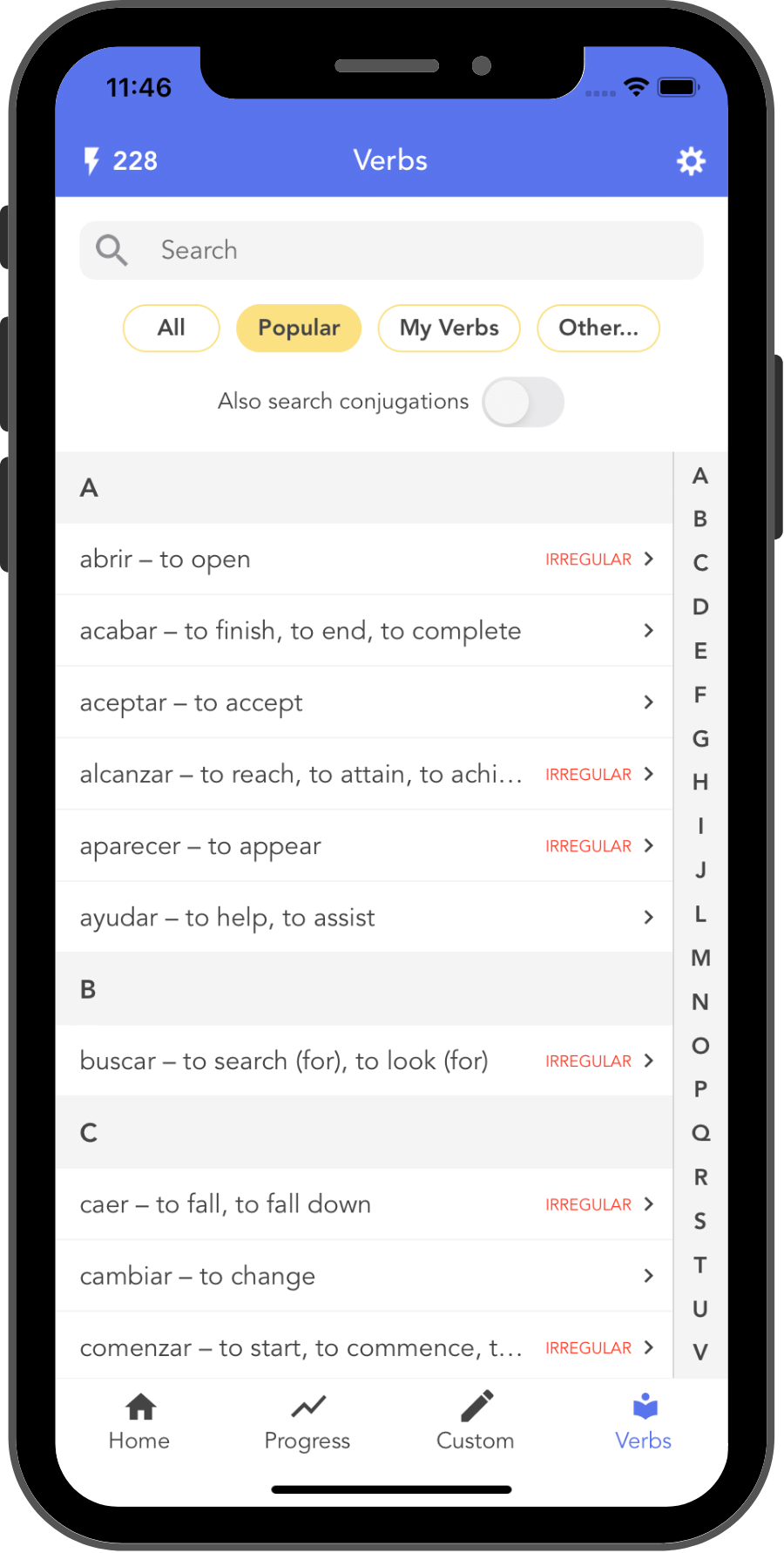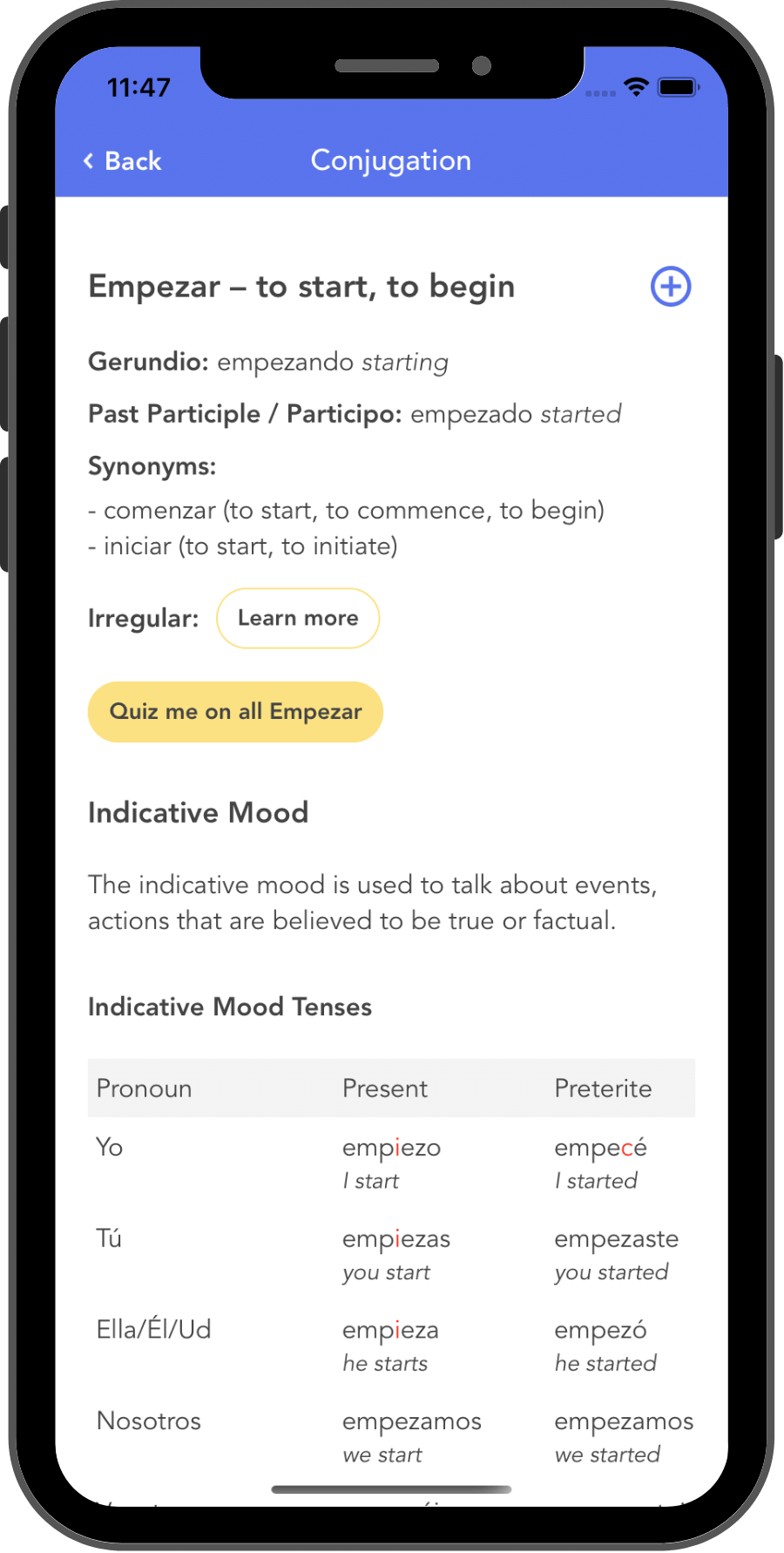 4.9 out of 5 stars based on

2,690+ ratings
Back to top
About Ella Verbs
👋 Hola! We built Ella Verbs to help people (and ourselves!) master one of the hardest parts of Spanish – verb conjugation. It guides you through learning all tenses in an easy-to-follow way, giving you levels of bite-sized lessons and fun quizzes. Here is a 6 minute overview of all of the app's features:
It has changed a lot over the 4+ years we have been working on it, but the goal remains the same – to help you master Spanish conjugation! You can download and try it for free, and, if you do, please send any and all feedback our way!
- Jane & Brian
4.9 out of 5 stars based on

2,690+ ratings
Back to top