Home>
estar
How to conjugate Estar in Spanish
To be (temporary) Irregular Verb Top 100
Introduction
Estar is another Spanish verb which means "to be". In contrast to Ser, Estar is generally used to portray more temporary feelings or situations. For example: I am not at home, you are angry, she is at the concert, this cake is delicious, we are singing a song, this restaurant is very popular. This is an important and versatile verb that you will use in everyday life. Estar is also irregular in most cases, meaning you will need to learn the conjugations off by heart.
| | Spanish | English |
| --- | --- | --- |
| Infinitive | estar | to be (temporary) |
| Past participle | estado | been |
| Gerund | estando | being |
Indicative Tenses of Estar
Subjunctive Tenses of Estar
Imperative Tenses of Estar
Example sentences and usage
Vamos, juega conmigo, ¡estoy tan aburrido!

Come on, play with me, I'm so bored!

Cuando me desperté estaba triste.

When I woke up, I was sad.

¡Para ya! ¡La estás haciendo sentir incómoda!

Stop it! You're making her feel uncomfortable!

Creo que los exámenes están arruinando la educación.

I think exams are ruining education.

Ser objetivo significa no decirle a todos del lado de quién estás.

Being objective means not telling everybody whose side you are on.

Estoy vivo aunque no esté dando ninguna señal de vida.

I am alive even though I am not giving any sign of life.

¡Recordad que estamos todos en el mismo barco!

Remember that we are all in the same boat.

No estoy de acuerdo con él.

I don't agree with him.
Back to top
Downloadable cheat sheets
Download and print a cheat sheet of Estar Spanish conjugation tables in image or PDF format: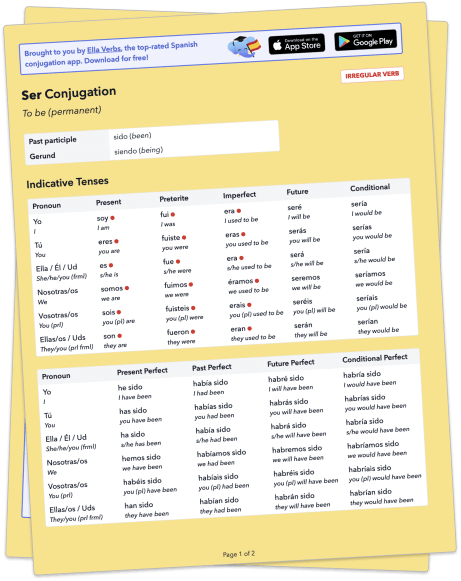 Download Estar Conjugation Tables
Want a handy PDF of estar conjugations? Enter your email and we will send it to you!
We respect your privacy and do not share your email address. Unsubscribe at any time.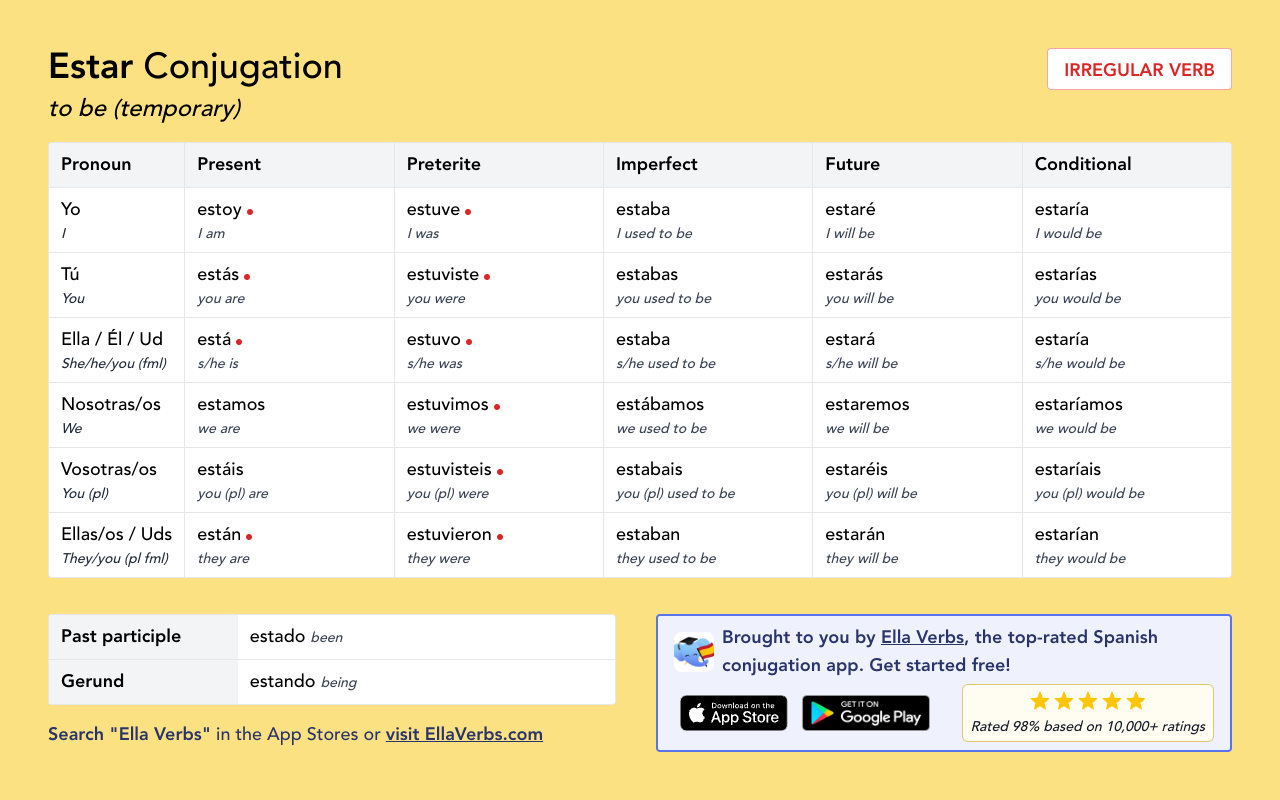 Back to top
Practice Estar conjugations (free mobile & web app)
Get full conjugation tables for Estar and 1,900+ other verbs on-the-go with Ella Verbs for iOS, Android, and web.
We also guide you through learning all Spanish tenses and test your knowledge with conjugation quizzes. Download it for free!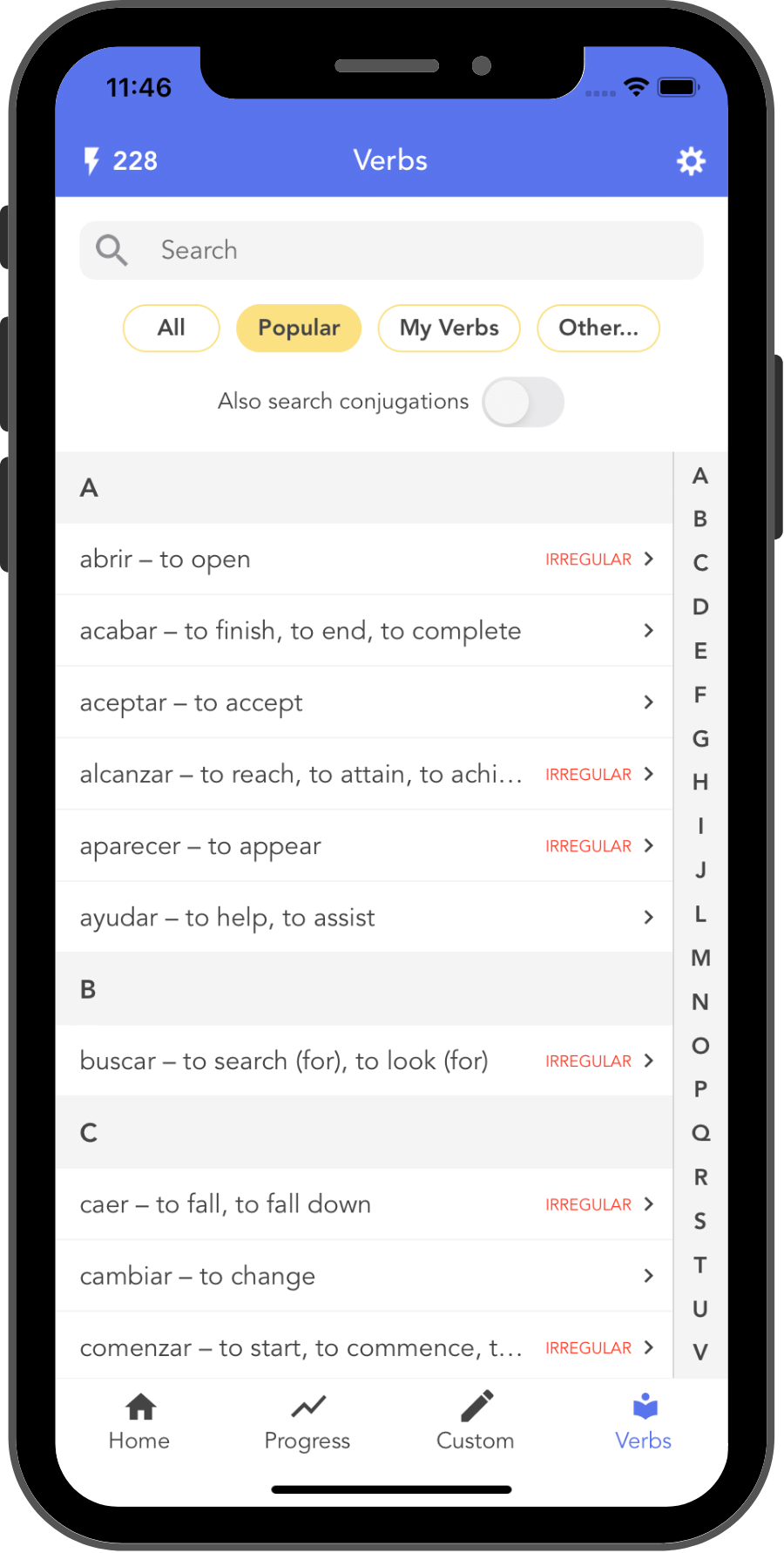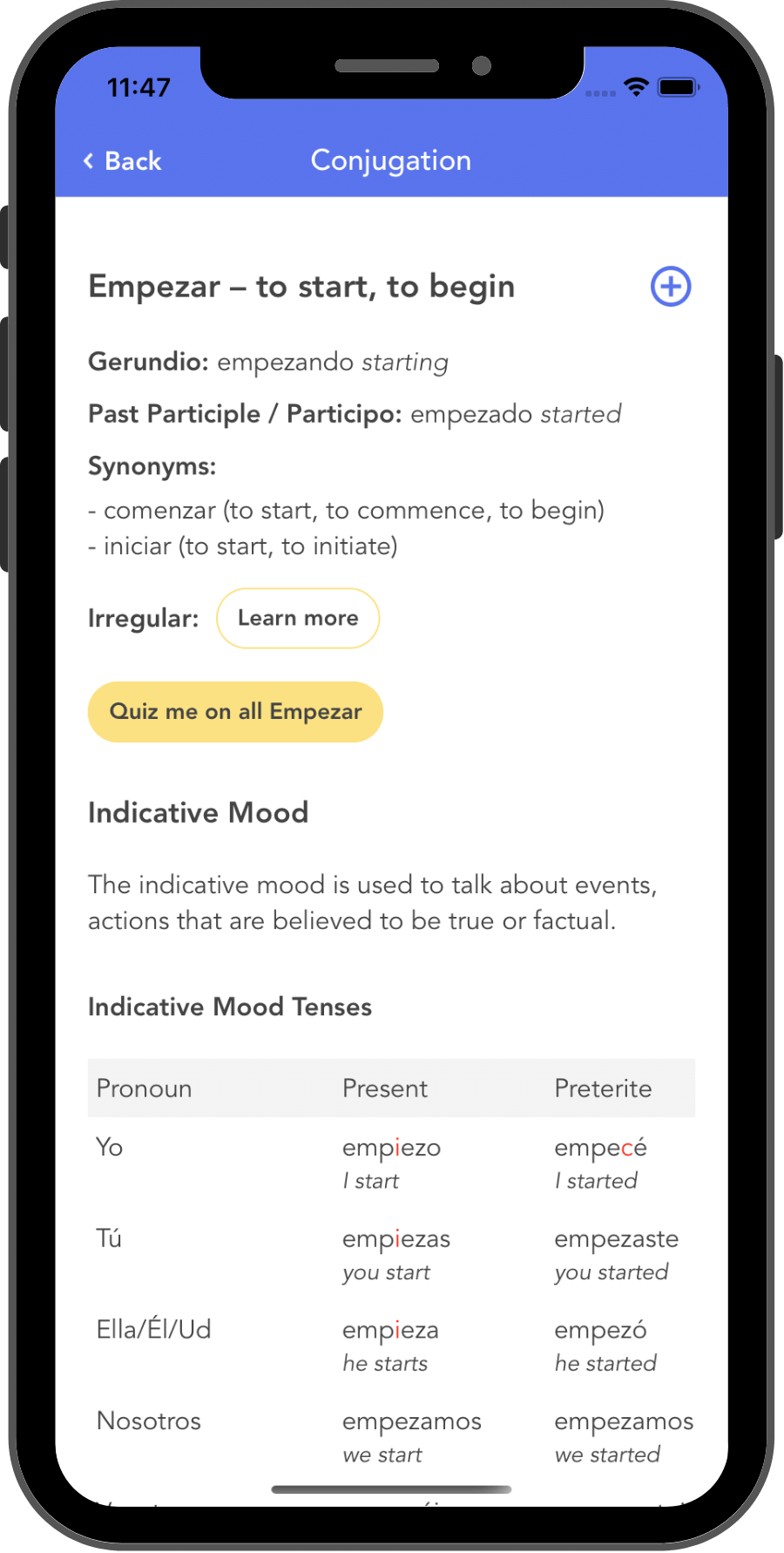 Rated 98% based on

5,291+ ratings
Back to top
About Ella Verbs
👋 Hola! We built Ella Verbs to help people (and ourselves!) master one of the hardest parts of Spanish – verb conjugation. It guides you through learning all tenses in an easy-to-follow way, giving you levels of bite-sized lessons and fun quizzes. Here is a 6 minute overview of all of the app's features:
It has changed a lot over the 4+ years we have been working on it, but the goal remains the same – to help you master Spanish conjugation! You can download and try it for free, and, if you do, please send any and all feedback our way!
- Jane & Brian
Rated 98% based on

5,291+ ratings
Back to top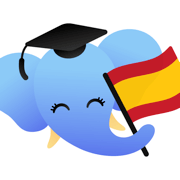 🇪🇸

Try our app!
Get the most comprehensive verb tables for Estar and 1,900+ other verbs. Plus lessons & quizzes to help you master Spanish conjugation.
Rated 98% based on

5,291+ ratings
Download free
Struggling with Spanish conjugation? 😕 We used to too! So we built an app to take away the confusion.
After helping 50,000+ Spanish learners, we think it could help you too. Use it for free and let us know what you think.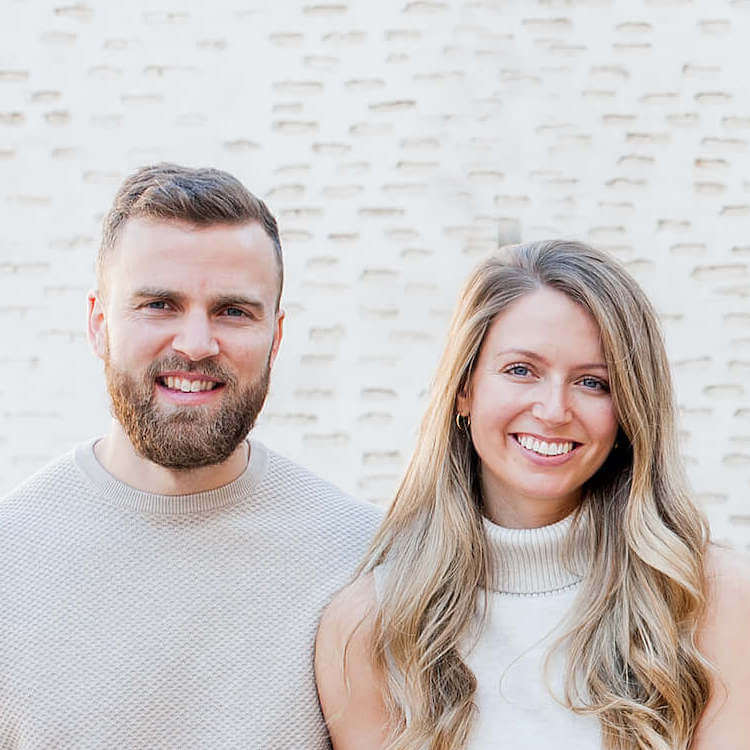 Jane & Brian
Ella Verbs 🇪🇸
P.S. It's free to start and learn the present tense. After that, you can upgrade, or for those who can't afford it, apply for the Give Back program ❤️